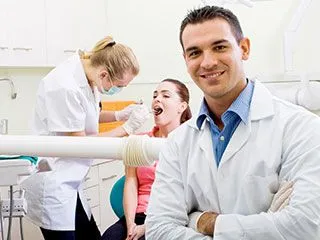 About Modern Family Dentistry
Right on Frankfort Avenue in the historic Crescent Hill neighborhood, Modern Family Dentistry is committed to delivering state-of-the art dental care with personalized attention.

3210 Frankfort Avenue has been a dental office for many years. It began its transformation to Modern Family Dentistry in May of 2010 when Dr. Andrei Moldoveanu purchased the practice and began a series of renovations to update the facility. Since then, we have been delivering expert dental care that combines modern technological advances with a personalized approach that focuses on each patient's individual dental needs.

We stay up-to-date on current innovations and procedures to ensure that our patients are getting quality treatment that will last. It is also important to us that patients understand the services we provide and know how to best care for their oral health. That's why we will always take the time to explain procedures and care tips so that you are comfortable and confident in us and in your smile.